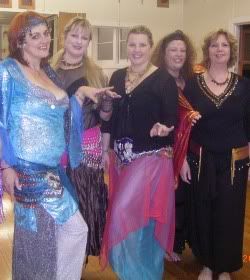 Why are Babe's current edits not finished? She's been a whirling dervish elsewhere! That's me second from your right, and I'm in great company. When this troupe belly laugh they roll and flutter too. Now that's multi-skilled.
Belly dancing is fun, feminine and fantastic, though I'm not sure what to make of doing "the camel". At least we didn't spit. If you have a belly and you haven't made it dance yet, brush up your sequins and give it a go. This is definitely one case against the saying "Use it or you'll lose it", though when some of our tummies undulate it does look a little like Rosemary's baby. Voila, a new belly dancing alien is born.
Well, now I've danced my little veils off I think I'll collapse somewhere comfy to eat Turkish apricots and baklava. Peel me a grape someone?