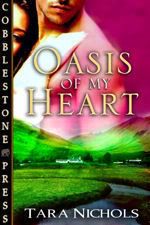 Oasis of My Heart
by Tara S Nichols
Release Date May 25th 2007
Sadie Davies is running away for the second time in her life. The first time she wanted stardom. This time she is running from it. Intending to keep a low profile she sets up for a solitary life, but with sexy, know-it-all, neighbour Dustin Reed she finds it rather difficult. Moving in next door to playboy Dustin Reed wasn't Sadie Davies idea of keeping a low profile. With ex-manager Horace Bigelow hunting her down the last thing Sadie wants is a distraction.
Now she has to decide whether to let this lady-killer into her life for fear of attracting a real killer.

The Spirit Within
by Shonna Brannon
ISBN: 978-1-60088-130-5
Alyssa Carrington's spirit must search out the man who tried to kill her before her body's taken off life support and she moves on to the other side.
Sam Carson's a detective whose sister was murdered the night Alyssa was attacked. When he hears a voice claiming to be the spirit of Alyssa, he thinks he's going crazy. Can he go against the rules and track down his sister's killer and get Alyssa back in her body or will his feelings for her spirit get in the way and send her to the other side, making him lose his chance with her forever.
Second Sight
by Debbie Mumford
ISBN: 1-934069-51-5
A mysterious grimoire of Celtic origins has been linked to two murders. To break the case, psychic investigator Zach Douglass seeks the assistance of a gifted translator, beautiful Jenny Murdoch. But Jenny has a dark secret. She's spent years repressing a potent psychic talent: her 'tiger', which she believes killed her parents. Jenny will crack the grimoire and learn to trust her tiger, but she'll fall under suspicion for the murders. And one of the victim's was Zach's fiancée.