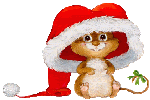 Tell the truth -- are you sending e-cards or printed ones this year, or a mixture of both? I have to tell you, e-cards look good. Cute, animated, quick, basically free. I realize you can't hang them on the wall, but when you consider the message still gets there, minus the environmental cost and personal stationary/stamps cost, well, the concept sounds appealing, no? Maybe I'm finally being dragged kicking and screaming into the 21st century?
Naturally there will be those who you can't send e-cards. Some of the sweet older folk I know still don't have a computer, much less net access. For them it will always be the postman who labors hard to bring their news, usually with a shopping voucher or hankerchief or something tucked in for good measure.
But think about the poor postie. Few outside of Santa's elves work as hard as postmen at Christmas. No knocking twice in December. No, sorry love, no time!
Anyway, for those of you who WILL be sending e-cards, I found this cute, free site.
http://www.fromtheheartpostcards.com/ChristmasLinksPage.html
Happy writing, y'all.